Net Promoter Score® lets you measure and analyze customer satisfaction to learn more about what people like (and dislike) about your product or business. It's a valuable metric – for most companies and it's the most valuable metric available for measuring customer loyalty and satisfaction.
A good Net Promoter Score can fuel your business growth, generate word-of-mouth referrals from Promoters and help you bring in more business without spending as much on traditional advertising or inbound marketing.
That is if you put your NPS® to work. Without a clear strategy for turning NPS feedback into growth, it's easy to run a business that people like but don't talk about.
With a clear customer advocacy strategy, you can turn your Net Promoter Score into a valuable marketing tool that generates referrals, encourages new customers to sign up for your product or service, incentivizes repeat purchases and massively speeds up your business's growth rate.
Below, we've outlined several techniques that you can use to turn your NPS data into a scalable process for generating word-of-mouth referrals, strengthening your brand through reviews and discussions, and fueling the organic growth of your business.
Ask customers to spread their love on social media
You get what you ask for. There's a reason why customers that rate your business as 9 or 10 are called Promoters: they're so happy with your product or service that they feel totally confident to recommend it to their friends and colleagues.
Despite this obvious incentive, many businesses do not see their Promoters as a valuable marketing asset, but as reassurance that their product or service is satisfactory. They read their feedback, check the high score, pat themselves on the back and move on to other tasks.
While most Promoters might be thrilled with your business, few will take action unless you give them a small, friendly push. Engage them and provide an instrument to do it.
One of the simplest ways to turn feedback from your Promoters into a valuable marketing asset is to follow up with an email asking them to go public.
Instead of only responding to your Passives and Detractors, make an effort to close the feedback loop with all of your customers. In many ways, it's more important to close the loop with a Promoter than with a Passive, since one is far more motivated to talk about your business than the other.
After you've reviewed a Promoter's feedback, reach out to them directly and tell them how much you'd appreciate them sharing their thoughts with others:
If you're an upcoming startup with entrenched competitors, ask if they could upvote you on comparison websites like

Capterra

or G2.
Give them direct links and ask to share their satisfaction on social media.
If your product is an iOS, Android or Mac app, ask them to review your product in the App Store, Mac App Store or Google Play Store.
Another great "push" is to reward their efforts. You can offer your Promoters a gift in the form of a free subscription or appealing discount if they complete the goal of sharing their review.
Over time, the reviews and ratings of your enthusiastic customers can add up, rewarding you with stronger rankings, more traffic, more downloads, more sales, and as a result – more revenue. All it takes is a quick follow-up message to every Promoter. This can be easily automated by using a specialized NPS software.
In addition, it is a nice touch to reach out to those customers who already promote your brand in social media or blogs and offer them a gift to reward their loyalty and willingness to recommend you. Don't forget also about the power of a simple thank-you. Jump into the conversation by using the comment box to express your gratitude towards their support.
Incentivize customers to bring in more business
While many customers will be happy to promote your business on social media for free or for a small discount, there is another way to ensure they are proactive in marketing your brand, namely loyalty and referral programs. 
Considering that 73% of consumers are more likely to recommend a brand with a good loyalty program, putting together one is worth the try. By analyzing the NPS feedback and tailoring your approach to specific customer segments you will have a chance to engage not only Promoters, but even Passives and Detractors to some extent. Meaningful loyalty programs not only drive customer retention by showing care towards existing customers. In the long run, they also improve the customer acquisition since apart from spending loyal customers refer more.
Hotel chains are notorious for using loyalty programs by offering discounts and free upgrades to their customers. In return, these clients happily share their positive experience recommending the respective chain to the ones interested. The same is true especially for retail businesses, who use these programs to encourage word-of-mouth advertising and repeat business. Actually, 58.7% of internet users consider earning rewards or loyalty points as one the most valued aspects of the shopping experience. 
Referral programs can prove to be even more effective, as in this case a loyal customer will get part of the revenue, so they are more than willing to promote the brand.
Airbnb is probably one of the best examples of a referral program that works, as their customers get a small percentage every time someone they referred stays in an Airbnb apartment. Another example is Uber, which offers a free ride to the referrer and the referee.
Both these systems are easy to implement, and the reaped benefits will be of significant impact on the customer base. All you have to do is analyze the NPS feedback to learn more about your most enthusiastic customers or what can win their devotion long-term, and build on the received data to foster a deeper emotional connection and tailor your programs.  
Turn Promoters into partners and referrals
Still, most Promoters have limited reach and influence. They're happy to rate and review your product on directories and comparison websites, but most aren't capable of reaching thousands of other prospective customers with their feedback.
The few that are, however, can be the most valuable marketing partners you'll ever work with.
If you discover that one of your happiest Promoters is also a blogger or thought leader with their own audience, reach out and offer to work together via an affiliate-merchant relationship.
Most bloggers that reach your target audience will be happy to write about your product for their readers, especially if you can pay them a percentage of the revenue they produce via an affiliate commission.
Affiliate programs are particularly effective for SaaS products. Industry-leading SaaS companies like Leadpages, Ontraport, and many others have built their user bases not just through internal marketing efforts, but through publicity generated by affiliates.
Not all of your Promoters will make great affiliates, but the few that do could become an important part of your marketing and growth process.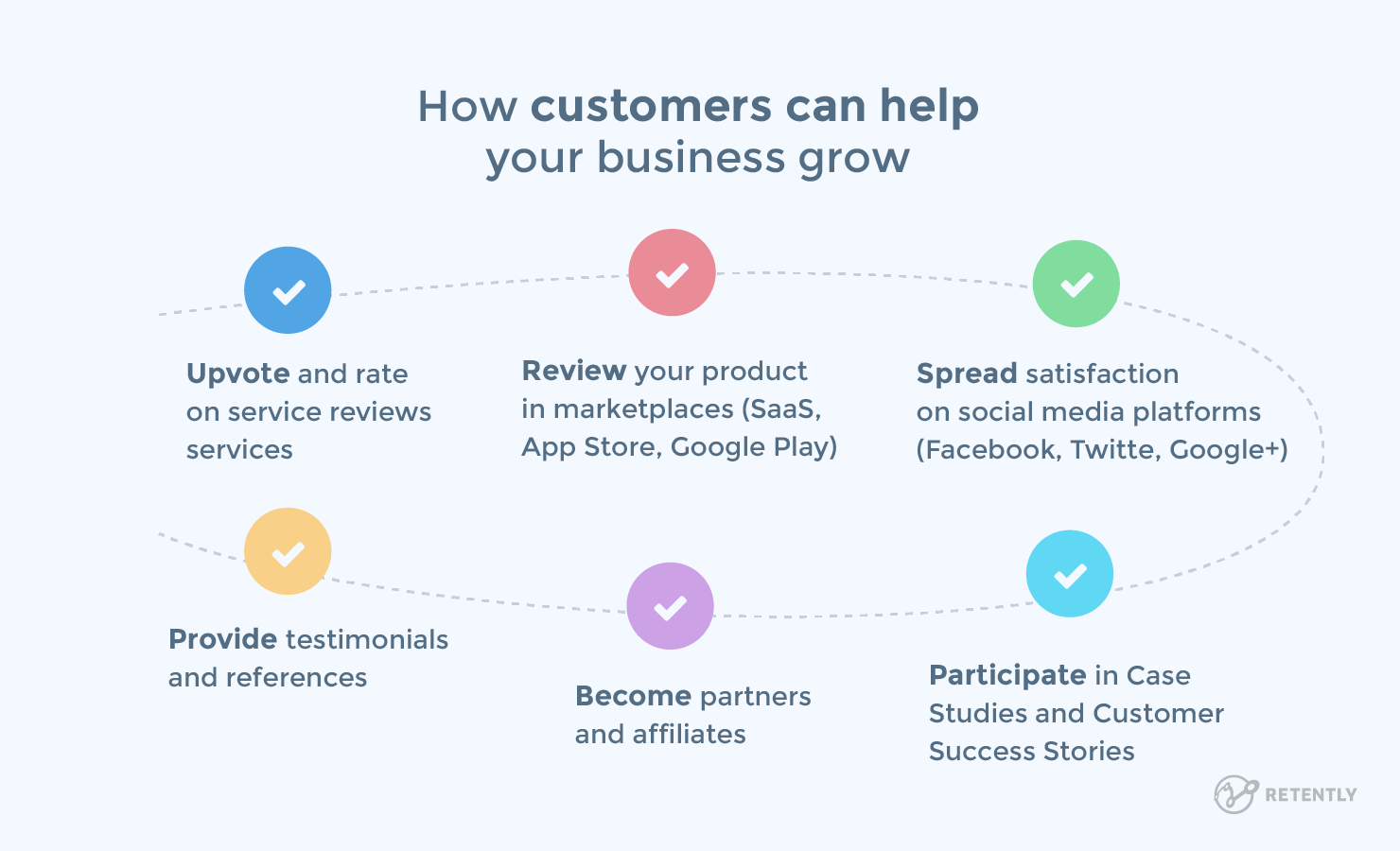 Create Customer Success Stories and Case Studies
Promoters can do more for your business than just provide motivating NPS feedback and generate positive word of mouth. If you have a customer or client that's particularly pleased, you must develop an in-depth Customer Success Story or Case Study around their experience.
Another way to put NPS feedback to work for your business is to adapt it into a short text or video testimonial.
While testimonials are great for converting people who are already interested in your product or service, they're less effective at reaching out to entirely new audiences and explaining how your product or service can help people.
Customer Success Stories and Case Studies are especially powerful for B2B companies, where using your product or service can lead to a measurable increase in key performance indicators for your customers.
Instead of only learning that a customer is satisfied, as they would via a testimonial, prospective customers get a detailed look at why and how your product or service produced positive results and value. It is utterly important to show in the case study how the customer benefited from your product instead of making it a sales pitch.
And since personal success stories revolve around a specific person or company, they create a level of social proof that a bland, data-driven case study can never convey.
Seize every opportunity to turn Detractors into Promoters
Receiving negative NPS feedback from customers hurts, especially if you feel you've worked hard to deliver the best possible service.
Luckily, relationships with Detractors (customers that rate your product between one and six on the NPS survey scale) aren't always a dead end. With the right follow-up, you can turn things around and convert unhappy Detractors into your most passionate Promoters.
We touched on the topic in our guide to NPS for SMB. By closing the customer feedback loop and overdelivering after a bad experience, you can turn even the most frustrated Detractor into someone that's thrilled with your service.
From here, you can implement the same steps as listed above to turn the relationship from one that's purely negative into one that lets you acquire new customers, strengthen your brand and dramatically increase your customer lifetime value.
Personalize your offer and keep Promoters happy
When winning over a bunch of Promoters you may think that your work is done: after all, they love your company already, what else can you do? But they won't be Promoters and brand advocates forever, if you don't take care of them.
It's not enough to have an exceptional product or support, these days customers want to be sure that you know them. And when they realize that you are able to understand their motivations and preferences, as well as predict their needs, they will gladly come back for more.
Given that 63% of consumers abandon brands due to poor personalization tactics, advancing customer relationships via personalization has become a top priority for businesses. By getting to actually know your audience, analyzing their past behavior and providing meaningful experiences, companies are able to make them feel valued. And when customers feel valued, they will not only spend more but also gladly recommend the business to their circles. 
Amazon uses this system successfully: they study the search and shopping history of buyers and come up with similar or complementary products. So, every time customers get an email from Amazon, they see exactly the products they may need. Since customers have to buy 3-5 items from the same company to become loyal, the brand secures its chances at getting repeat business and more devoted clients.
At the same time, relying only on traditional data – collected by social media monitoring or purchase histories – to offer relevant experiences is no longer enough. More personal real-time data is what needs to be sought, allowing for a deeper understanding of customer needs and buying context. What's more, 77% of customers have a more favorable opinion of brands that ask for customer feedback.
Hence, going back to the source and digging into the NPS feedback would help companies achieve a new level of insights and earn trust continuously in exchange for a perceived value. By putting the data to work and personalizing offers, businesses ensure that their Promoters are still willing to purchase their products and share their satisfaction with others. No doubt, the Passives and Detractors will also have a change of heart as you put more effort into tailoring their ever-changing customer journey.
Turn your satisfied customers into brand advocates
Start turning your Promoters into brand advocates now and fuel your business growth with Retently. Sign-up for a free trial, connect your favorite services, collect NPS feedback and engage consistently with your customers in order to provide an experience which is worth sharing.
Get notified of new articles
Leave your email to get our monthly newsletter.