There are two ways to grow your business. The first is to acquire new customers. The second is to focus on retaining existing clients and increasing their lifetime value (CLV).
Data shows that the second is a far more effective strategy for producing a steady, predictable increase in revenue.Despite this, sources disclose that 44% of companies spend more time and money on acquiring customers, whilst only 16% of businesses focus on reducing churn, putting upfront the old wisdom that it's cheaper to retain and delight an existing customer than to find a new one.
Don't forget – the longer you can keep a customer, the greater is the provided value during their lifetime relationship with your brand. Here's where the term customer lifetime value comes forward.
What Is Customer Lifetime Value?
Here's the simplest customer lifetime value definition – it's a metric that shows how much net profit your company can make of one customer over time.
So, a high CLV means each customer will bring in more revenue for your company. Since each client becomes more valuable, it means your company can afford to spend more to acquire new users and retain the existing ones.
Let's say you run a classic, pure-play SaaS service with monthly billing. We're going to be using a single customer as an example, one who stays with your business for 2 years, and who got a subscription plan priced at $100/month.
The average customer lifetime value of that client would be $2,400 ($100 times 24 – the number of months that person has been a customer). That number only gets higher as the client gets to pay more over time, the expansion revenue from existing customers exceeding the churn.
For more valuable insights, customer lifetime value measurement should be done using both: an average revenue and an average profit. Each can provide important data on how customers are responding to your product and how to efficiently adjust your marketing efforts. 
How to Increase Customer Lifetime Value?
Increasing your CLV can be as simple as switching your billing cycle from monthly to yearly, or as tough as overhauling your customer support process. Below, we've listed 14 proven tactics to increase your average CLV and generate more revenue from your existing customers.
1. Improve the Onboarding Process
When it comes to Customer Success, onboarding is the process you should spare no effort on in order to ensure sustainable business growth. It should be among the top priorities as poor onboarding occurs to be the leading cause of churn, 23% to be more specific.
It's here that your customer really engages with your product and where you can make the greatest positive impact. This being said, it's extremely important to put together a strategic onboarding process to encourage new users coming back for more, and thus increase their lifetime value to your company.
The process can be different, depending on the industry, customer needs or desired outcomes. However, there are a few key tips that most businesses use to engage their audience and increase adoption.
First and foremost, one must make the onboarding as easy and fast as possible. This can be done by simplifying the process with walkthrough guides, interactive how-to videos, wrapped tutorials and other content that might help customers in fulfilling their goals.
Consider personalizing the onboarding sequence by tailoring it to the buyer persona. Focus on communicating the value of your offering right from the start. Test onboarding approaches and monitor the customer health score based on their behavior.
Whatever option you go for, make sure it is straightforward enough to be understood and encourages engagement.
2. Provide Value-Packed Content That Keeps Customers Engaged
Email marketing is one of the best ways to retain customers, but many businesses go about it the wrong way. Instead of sending value-packed content, they run automated drip campaigns without offering any value.
The best type of emails to send to your customers are the ones that emphasize your product/service value:
If you provide accountancy services, send a weekly or monthly email telling clients how much money you've helped them save that month;
If you provide help desk software, send a monthly email to clients informing them how many support tickets they successfully solved;
If you sell an environmentally friendly product, email your customers to tell them how much less carbon dioxide they've produced by using a competing product.
Every product or service delivers value. The key to an effective message is to find that value and present it to your customers in a way that shows your contribution. An email that explains the benefits you bring in goes a lot further – from a CLV perspective – than another promotional email.
Another means to be taken up is educational content. This type of message is based on the personalized sharing of knowledge. The key here is personalized. This is the moment when you need to get rid of sales pitches, look into specific customer needs, and suggest ways to solve their problems using your service/product.
Your main goal is to map the customer journey, identify the touchpoints, and, on this ground, send out highly targeted personalized campaigns to make yourself visible as a reliable source of knowledge. Be there for your customers, always ready to help, and they will reward you accordingly.
3. Offer High-End Customer Service
Quality customer service is a necessary investment to help your business grow and increase retention. If your service is below average, customers will defect to competitors even if your product is above average. Data reveals that one-third of consumers are likely to switch brands after a single instance of poor customer service.
As such, it's important to get customer service right. Better customer service equals a better customer experience. In turn, that will make your existing customers more likely to become loyal long-term clients.
But how do you offer top-notch customer service that boosts customer retention and increases customer lifetime value? Well, here are a few recommendations you should consider:
Offer Omni-Channel Support
As a business, it's important to be active on as many channels as possible. Cross-channel interactions accounts for a significant impact on customer retention (58%) and advocacy (55%).
Most people own more than one device – in the US alone, 98% of people switch between devices on a regular basis. Not to mention that around 66% of customers use at least 3 different communication channels to contact support.
Ideally, you should look into which channels your clients use the most. Maybe they're more active on Telegram and Twitter while you only offer email and phone support. Once you know, make sure your support team is properly trained in using all those channels, or – if money allows it – put together different teams responsible for each channel.
Provide 24/7 Support
It's no secret that people (be they B2C or business buyers) expect a fast response to their questions and support requests. One of the best ways to offer that is through round-the-clock customer support. While it's expensive, it's also worth it. Yet, if you can't provide 24/7 support, make sure your team can respond as fast as possible to customer requests.
And needless to say, if you are able to offer 24/7 support, you should still instruct your team to respond to customer tickets as fast as they can. Don't forget – customers will be especially expecting that in this case.
Overall, you should make sure you have a well trained, responsive, and dedicated support team for the most traffic-heavy channels.
Monitor Social Media
When customers reach out on social media, be it to ask for support or leave a complaint, they're doing it first and foremost because they expect a fast response.
As it stands, approximately 84% of consumers expect a response within 24 hours if they post complaints on social media. On Twitter, things are even more tense, as 72% of people expect a response within the hour.
If they do not get a timely response, users will most likely share their dissatisfaction with your brand to friends on social media. Platforms like Facebook make it even easier for them to monitor your average response time.
According to journalist and author Emily Yellin, in the past when a call to a company went bad, customers would tell their family and maybe their co-workers, but nobody else. Now everybody can see those conversations – making the stakes rather high.
Bearing in mind the risks, your team must have at least one employee focused on tracking and replying to social media comments. Prioritizing those complaints would be a good start.
Offer Live Chat Support
Around 80% of business buyers want companies to respond and interact with them in real-time. The best way to offer them that is through live chat – client-company communications that take place in real time on the company's website or app.
The statistics don't lie – live chat is extremely useful for businesses. About 79% of customers say they prefer using live chat because it offers immediate responses. Also, website visitors who use live chat on your website are worth 4.5 times more than the ones who don't, so there's plenty of room to increase conversions with them.
What's more, live chat allows working remotely which makes it easier for your team to provide 24/7 support.
Maintain a Knowledge Base
A Knowledge Base is an important part of your support infrastructure where you must offer access to self-service articles, tutorials, video guides, and other supporting documentation. While putting one together will take some time, effort, and money, it will all be worth it.
According to research, around 91% of consumers would rather use a Knowledge Base if it is available, and 70% of them prefer to use a company's website to solve their problems instead of using email or phone support.
Furthermore, a knowledge base will take some pressure off your support team. For instance, a customer can be automatically redirected to a relevant knowledge base article or tutorial when they submit a request (or even before they do it), using automated bots. This might keep said customer happy by offering them a quick solution or answer, while allowing your support team to work on other, potentially more urgent support tickets.
Chatbots become more popular these days as they allow businesses to support clients 24/7 without using an additional human workforce. Configured properly, they will help customers get solutions quicker than traditional methods of customer support. While the majority still prefers human interaction, 40% say they don't care whether they talk to a tool or a real person as long as their problem is solved. Many companies use chatbots successfully not only on their websites, but on Facebook as well.
4. Build Relationships
Fostering good customer relationships is critical to the ongoing success of your business, weak relationships accounting for 16% of the average customer churn.
Throughout the customer journey and during all your interactions with a client, it's important to nurture a healthy bond. The key is to make them feel listened and appreciated, knowing they're dealing with a proactive and professional team.
Dale Carnegie said: "You can make more friends in two months by becoming interested in other people than you can in two years by trying to get other people interested in you." While he was talking about winning friends, the same principle applies to the business world. 
Get to know your audience and tap into their feelings and expectations. Surveying your customers would provide you with a handful of insights in this respect, helping you to better deliver on your promises. Be proactive and monitor customer health by connecting with your audience on a regular basis and not only when you have something to sell. Keeping a pulse on customer satisfaction will also allow you to take immediate action in case of a sudden decrease.
Pay proper attention to building relationships with the top segments of your customer base, key contacts, and executive staff. Conduct quarterly business reviews to make sure you are on the same page and ask for feedback on existing processes and on what's coming next. Make them feel granted with the individual attention they deserve.
5. Listen to Your Customers – Collect Actionable Feedback
Happy customers are loyal customers. Growing your business without learning what your customers think of you is extremely challenging. Growing with detailed, actionable feedback, on the other hand, is a far easier process.
Understanding your customers lets you prioritize the aspects of your business that fuel customer satisfaction and revenue growth, all while scaling down ineffective tactics. It also gives real data on how likely your existing clients are to recommend your product or service to their friends.
You should definitely collect and store all the feedback you receive in one place and share it across departments. Also, have a team that's responsible for monitoring customer sentiment online (on social media, communication channels, review websites, etc.).
Send out customer satisfaction surveys – NPS and CSAT. We recommend NPS over CSAT, a one-question survey that inquires on the likelihood of recommendation to friends or colleagues on a 0-10 scale. Based on the received feedback, the respondents are segmented into three categories: Promoters are your 9 and 10s, Passives go for 7 and 8 and Detractors range between 0 to 6. You can calculate your NPS score by subtracting the percentage of Detractors from the percentage of Promoters.
NPS makes it easy to assess customer happiness and allows you to send follow-up questions to find out what exactly clients love or hate about your business, and what improvements they'd like to see.
A high NPS score helps you increase your CLV since happy customers are far more likely to stay with your business than unhappy ones. Focusing on increasing your NPS is a great way to keep your churn rate low while expanding your client base.
When it comes to efficiently collecting customer feedback, using specialized NPS software is a solution worth considering. These tools are adopted by many businesses to easier prevent churn, increase expansion, and manage more customers with less effort.
Specialized NPS software is an excellent means to save time and get a clear view of your clients, since it integrates with various services you already use, like CRM and help desk software. What's more, it collects and gives access to useful customer data and advanced reporting in one place.
All in all, NPS software is a great way to take some pressure off your customer success and support teams, allowing them to better focus on improving the customer experience. Simply put, they'll be able to reduce churn levels, add ongoing value to the customer lifecycle, improve onboarding and long-term customer relationship, increase renewal rates, and as a result drive more profit.
6. Detect Common Pain Points & Provide Solutions
The idea is to look into your customers' feedback, and identify the most frequent recurring issues that are being reported.
NPS surveys make this task really simple, allowing you to collect actionable feedback and detect common pain points for both Detractors, customers who are not happy with your brand, and Passives, customers who like your brand, but not enough to become a Promoter.
Once the most relevant complaints are spotted, these have to be prioritized depending on the frequency of occurrence. Another approach would be to prioritize the issues that overlap with both Passives and Detractors.
In case the feedback is too vague to be paired, try to group it into categories, as for example "speed up support replies" or "streamline onboarding process".
Once the issues are identified and prioritized, the appropriate departments need to be informed and granted full access to the needed data, in an accessible format. Needless to say, the sense of urgency in fixing these problems is a must.
7. Offer Your Clients a Personalized Experience
Service, product, and experience personalization are paramount nowadays if you want customers to be happy and spend more on your business in the long run. After all, 81% of consumers say they expect businesses to both understand them and know when the right time and moment to approach them is.
Also, around 77% of consumers have apparently spent more money on or recommended a brand that has offered a personalized service or experience.
B2B buyers definitely want a more personalized experience, and half of the US B2B marketers who tried website personalization said it was effective.
Here are a couple of ways personalization can help you enhance your customer lifetime value in the long run:
When it comes to B2B buyers, personalization can help you deliver your messages through the right channel at the right time. Those things don't just make or break a deal – they also determine whether or not a client becomes a repeat buyer.
By getting to know your customers better, you can significantly improve the onboarding process by making it feel much more "familiar" and welcoming to new customers.
Personalization can help your product deliver a better customer experience with a more intuitive UI. And it's no secret that 8 in 10 consumers are willing to pay more money for a better experience. Not to mention that an investment in UX/UI can return a decent ROI.
You can use personalization to craft highly personalized in-app messages for each customer segment you have, increasing your odds of converting clients with a lower-paid plan to a higher-paid subscription.
With a better understanding of what your customers want, how they feel, and who they are, it becomes easier to perform cross-selling and upselling.
Personalization helps you deliver better and more meaningful customer support, which is vital if you want to increase customer value over time. It also makes it easier for clients to feel like they have an actual relationship with your brand, instead of just being a source of profit.
How can you offer revenue-boosting personalization? It's pretty much a mix of researching relevant customer data in-depth (which is much easier if you follow the advice we offer at #8) and collecting, analyzing, and acting on customer feedback (this is where NPS surveys help a lot).
8. Share your Product Roadmap
A product roadmap is a comprehensively mapped outline of a product offering over a timespan – a statement of intent that matches the steps related to a product's development. It's another source of motivation and ownership sharing with team members.  
Almost everything on the product roadmap has an objective that aims to meet the requirements of the team and those of the customers. Hence, the product roadmap is not solely an internal strategy guide and a plan for execution, but also a commitment towards customer goals, making it important to be shared both internally and externally. ​​
Internal roadmaps are focused on features/fixes, release and milestones. They are generally more granular providing more precise details and timelines. 
The work a member of the team does usually makes sense within a framework, hence sharing the product roadmap helps to align your team and their priorities, as well as create enthusiasm for a product strategy. 
Besides allowing the team to be on the same page and act in the same direction, sharing the roadmaps with your customers is a good tactic offering users a better understanding of the product, the features to be included (especially if the respective feature is a deal breaker) and the related timeline. It is crucial to explain the intrinsic value of a product's features and its value for a customer.
Sales representatives can share the product roadmap with clients as part of closing an agreement or building interest. Customer Success teams – being more focused on providing solutions to existing issues and offering performance enhancement – can share roadmaps to let customers know that it includes a solution for a current hurdle or an integration with a relevant platform. Taking customer feedback into account at all times and incorporating it into your product roadmap will inevitably affect your customer lifetime value, keeping customer interest alert and creating products that are tailored to customer needs.
When sharing product roadmaps to prospects or existing customers, these should be entirely focused on their benefit. It's advisable to avoid putting exact dates on externally available roadmaps unless there is definite certainty. A product roadmap is a work in progress so giving an estimate instead of specific dates would be best. Better to underpromise but to overdeliver.
9. Encourage Customers to Switch to an Annual Billing Cycle
If you sell a recurring product or service (for example, web hosting or a SaaS), the total amount of time that customers continue paying for it is one of the most important figures for impacting your CLV.
Customers that stick with your product drive predictable revenue, while the ones that pay for it for only a month or two generate very little income, not even covering your customer acquisition cost (CAC).
If your clients stay for an average below 10-12 months, one easy way to improve your customer lifetime value is to encourage them to switch to an annual billing cycle. This helps reduce churn by committing your customers to a year of usage, producing a higher average CLV and more time to prove the value of your product/service.
The prepaid money could be reinvested into your company and product development. Look at it as if a customer is investing in the company's growth by lending money at zero interest.
Another advantage of switching to the annual billing lifecycle is that it makes it easy to forecast and predict revenue, thus, in the long run, helps you out in the decision-making process.
At times users forget about their subscriptions, so failing to take care of the annual renewal is a possible scenario. To prevent getting a nasty chargeback surprise, reach out to customers via phone, email or survey before the renewal deadline.
Very few of your customers will extend their billing cycle unless you give them an incentive to make the switch, though. One great way to encourage opting for annual payments is to offer a discount (typically in the range of 10-20% off), provide 1-2 months or additional usage for free.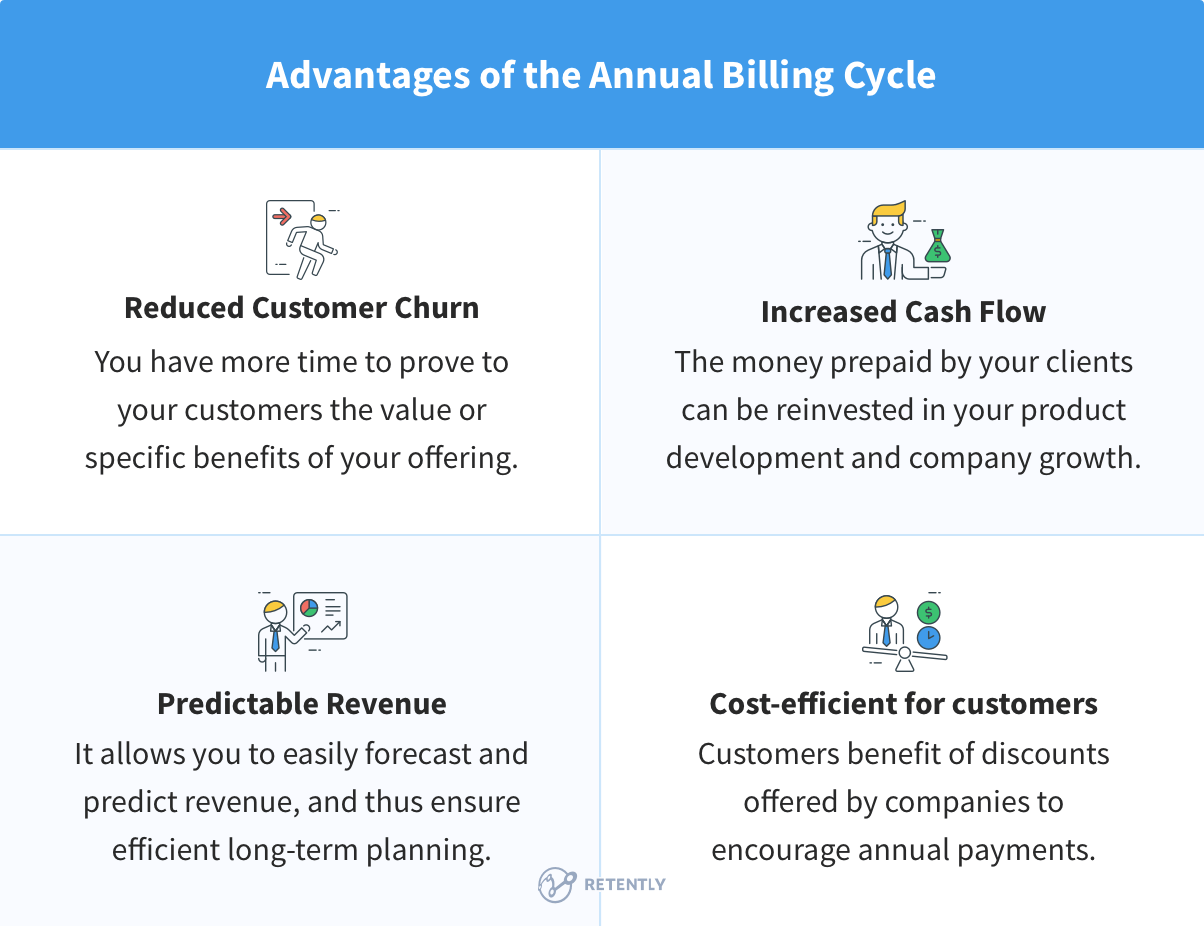 10. Expansion Revenue – Upsell and Cross-Sell
If you sell several complementary products or services, have different pricing tiers, or charge based on product usage, seats, etc. – upselling is one of the easiest ways to raise your CLV. Upselling and cross-selling (which is similar, but not the same) are two simple, effective ways to increase the amount of money your customers spend on your business.
Upselling is the art of selling a more expensive version of a specific product or service. If you deliver a service, upselling could mean increasing the scope of that service. If you offer SaaS software, it could be helping a customer upgrade from a basic plan to a more expensive one. Upselling is particularly useful since, according to data, 70-95% of revenue is generated by it, while only 5-30% comes from the initial sale.
Looking into the data provided by the 2021 Private SaaS Company Survey, there is a tendency for bigger companies to rely more on upselling existing customers.
Cross-selling, on the other hand, is the art of selling a similar, complementary product or service to your customers. A business looking to buy a website domain would likely be interested in web hosting and privacy protection services too, so they're a natural choice for you to cross-sell and increase the value of the transaction.
Amazon has perfected upselling and cross-selling and uses both practices to drive a huge amount of additional revenue every month. Used properly, upselling and cross-selling can both help you generate an extra 10% or more revenue per month from your existing customers.
Here are some great tips for cross-selling and upselling to your current clients:
Offer bundle products: Group different products and services together and sell them at a lower price than what they would have been sold for separately. It helps you increase the value of customer purchases by offering complementary products in a combo.
Offer temporary upgrades: This works best for SaaS businesses. Try giving users who have a basic subscription a free temporary (7-day or 14-day) upgrade to your premium plan after an update. Some users might be willing to fully make that transition once they get to see what your more expensive subscriptions have to offer first-hand.
Use a sidebar widget with popular choices: You can have a small list of popular products on your sidebar. This allows your customers to see the most popular products when they are browsing your website.
Add complementary products at checkout: Products you offer as cross-sells should address the needs of your customer. Ideally, they should complement the primary product in the shopping cart.
Free shipping with minimum spend: The word "free" by itself excites many buyers, but when you combine it with free shipping with a minimum order size condition, it makes it even more appealing. Customers are more likely to spend more money – that they would have otherwise spent on shipping – to buy something else.
Keep recommendations limited: Don't overwhelm potential customers with too many choices. Otherwise, you run the risk of customers abandoning the cart. When faced with a choice, it's easier for customers to decide between three items than ten.
11. Implement a Dunning Management System
A dunning management system is a solution that automatically retries a failed payment or expired credit card and sends a drip of renewal notifications to customers whenever a charge to their credit card is declined. It turns out to be crucial for any subscription business, preventing frustration and annoyance-driven customer churn.
After all, credit card charges can fail for a number of reasons:
Credit card limits
Restrictive corporate expense policies
Expired credit cards
Stolen credit cards
Lost credit cards
Freezing a customer's account too fast in such a situation can negatively impact the experience they have with your company. Of course, if you're too lenient with declined charges, your business will also have to suffer since you'll just end up losing money in the long run.
Furthermore, dunning management can lower your churn rate and improve your customer lifetime value by enabling automatic charge retries. This way, accounts are not closed prematurely since you can charge the card again a couple of days before the account should be closed, for example.
What's more, this solution lets customers know exactly when the service can be renewed again. Many clients would likely appreciate this kind of reminder since it saves them time as they don't need to look up your FAQ section or contact your support team by email or phone.
Also, a dunning management system ensures you won't have to deal with so many angry emails or calls from upset customers who forgot they had your service or product set to autopay. Sure, that won't necessarily do wonders for your CLV rates directly, but it will reduce your brand's odds of getting negative reviews because of it.
And, of course, the automation offered by dunning management saves your support plenty of time. They don't need to waste hours on counter-checking and sending out dozens of reminders and follow-ups. Instead, they can focus on other tasks.
Here are some billing management systems with incorporated dunning management functions:
12. Run Loyalty Programs
Ensuring customer retention and as a result a higher customer lifetime value can also be accomplished with the help of loyalty programs which offer incentives for repeat business. This can include offering discounts or rewards, by means of loyalty cards, setting up loyalty apps or points schemes to earn on purchases. These programs can be very successful if they are properly implemented. 
Among the most familiar examples are the airlines that offer miles depending on the ticket fare. Frequent fliers prefer to use the same airline to accumulate miles and get a free ticket. The cosmetics brand Tarte rewards points not only for purchases, but for filled-in surveys and engagement on social media.
You could also try the refer-a-friend strategy: Airbnb program allows guests to get bonuses for every referred friend who books an apartment. But that's not all: Airbnb encourages guests to spend the acquired bonus as it has an expiration date – prompting them to use the service as well and spend more. 
If loyalty programs do not seem viable to you, reward your customers for every x amount of money spent or create membership programs that offer additional perks for a small price. A good example is Amazon Prime: members of this program get faster delivery – which is what every customer needs – and, additionally, music and video streaming. What's more, according to CIRP, Amazon Prime members only get better with time, increasing their spending over years. 
You should also know your most fierce Promoters and reward them via specific campaigns that recognize their loyalty. It may include top-of-mind benefits in loyalty programs, a preorder of unreleased products, access to specific services or even a personalized thank-you note. By making them feel special you will be able to cultivate a sustainable customer relationship.
13. Increase Your Pricing
As a business, it's natural you will want to increase your pricing as you grow due to various reasons. It can be either because you changed your customer profile, added new features to improve your product's capabilities that need to be monetized or simply because the existing prices have not been revised for years and are not profitable. Companies often tend to underprice their services when they first start out, after all.
Moreover, Andreas Hinterhuber's study refers to pricing as a largely neglected tool in marketing, a 5% price increase leading to a 22% improvement in profits that, according to the author, is far more than any other methods.
In terms of growth, Patrick Campbell, CEO of Price Intelligently and ProfitWell accounts for a 30-40% increase in revenue for companies that have never really attacked their pricing, and at least an 11-15% boost for companies that are more forward-thinking.
But what do you do about your existing customers? Let's face it – you can't expect your customer retention levels to be too high if they are taken by surprise with unexpected billing changes. It's even safe to assume some of them might get so upset that they might even leave your brand altogether.
To showcase – in 2010, the management of Zendesk, the help desk software, outraged customers when raising their prices, resulting in a 300% increase in monthly fees for some users. Again, it's natural for businesses to hike fees at some point, but checking how dramatically it would affect the bills, especially of their early customers, might have helped avoid the wrong turns.
That's where grandfather billing plans come into play. Simply put, you keep the original pricing for your existing customers, and implement the new pricing plans you want for new customers.
Another approach would be to give customers a choice and make them feel in control. Provide a set of options for existing customers so they have the opportunity to decide what suits them better. Let's say, they could have their current plan at a higher but discounted rate, or downgrade it to keep the same price.
This way, you get to make more profit while also giving existing customers enough time to get to love your brand to the point where they themselves will be willing to start paying more for your services.
14. Instill a Customer-Centric Approach
Keeping your customers at the heart of everything is an important change that you need to make when developing and maintaining relationships with potential or existing clients. Companies which place the customer at the heart of their organization experience increased customer lifetime values as well as decreased turnover. 
Building a customer-centric organization requires commitment. It is imperative to commit to the values of customers first and instill a customer-focused thinking into your entire company. It's not a simple buzzword any longer but rather a key principle for business today that can directly and effectively affect your bottom lines.
Companies need to be obsessed with creating positive experiences for people to improve their perception of a brand. The entire organization must be oriented towards its customer from back office to front line in order to deliver value. Companies need to build a customer-centered culture, rather than approach it as a one-off transaction. 
The Bottom Line
If you value customers, your revenue will grow. It's as simple as that. It's a matter of showing them how much they mean to your business (by asking them for feedback and acting on it), by offering them exactly what they need (even if they're not aware they need it yet) and the utmost convenience, providing top-notch support, and an amazingly personalized customer experience.
In case you're looking for a way to boost customer lifetime value using NPS, Retently can help you retain more customers and grow your business. With a simple one-question survey, you can learn exactly what your existing users and customers think, giving you the actionable data you need to fuel long-term growth. Start a free trial today!
Get notified of new articles
Leave your email to get our monthly newsletter.