Apple's customer satisfaction and loyalty have been growing steadily over the years, reflecting the way consumers view the brand. According to NPS Benchmarks, Apple's NPS score in 2022 is a resounding 72, which is significantly higher than the average NPS score of the consumer electronics industry.
Apple's continual focus on improving its Net Promoter Score has produced significant results for the company. In 2007, its NPS was a respectable 58. As of 2016 through 2017, the company had an NPS of 72 – one of the highest in the technology industry – following a decrease in 2018 to a score of 63.
And, although their NPS seemed at risk due to the pandemic, as most companies took a considerable hit, Apple was more than ready to keep up with customer expectations and stay on top of their mind – registering a record fiscal year in 2020. 
The company not only managed to excel at creating an omni-channel customer experience, but to also give back to the community, for example by partnering with Google on the Covid-19 contact tracing technology. Apple made sure to be close to their customers at all times and meet the new challenge with the same creativity and passion. Hence, the brand was granted an NPS score of 72 in 2022 – NPS which streamed confidently upwards over the past 3 years.
Why is Apple's Net Promoter Score important, you ask? Because NPS is related to a company's growth and customer retention levels. The score showcases how many people are happy with your brand, and how many actually promote it. And if they do the latter, it's safe to assume those people are loyal customers.
What Are the Reasons Behind Apple's NPS?
Understanding what led to Apple having such a high NPS can give you an idea of what you could focus on to achieve similar results.
Apple's NPS score isn't a coincidence, after all. It's the result of an incredible focus on delivering a great product and an exceptional experience to customers – something Apple, as the world's largest tech company, has turned into a streamlined process.
Apple's Net Promoter Score is very high for a company in its industry, but it's not unattainable for other brands. By understanding why and how Apple achieves high customer loyalty, you can create a process that improves customer satisfaction in your own company.
Whether you run a technology business or have an unrelated brand and want to learn from Apple's amazing success, the factors below can help you improve your customer loyalty and retention:
1. A Focus on Relieving Purchasing Anxiety
One of the most frequent reasons customers don't purchase something – especially an expensive or unique product – is anxiety about whether or not it will work as it should. Concerns that getting an answer from the company might be difficult if the product doesn't work properly also come into play.
Apple neutralizes this anxiety through its customer service, letting clients know that for any product they buy, they'll receive the support they need to its fullest. Brian X. Chen, New York Times, pointed this out, arguing that any product review is worthless without an understanding of the company's customer service. Customers are making the purchase based not just on the quality of a product, but on the quality of the service that accompanies it.
For one, the company offers a 1-year warranty on all its products, and also offers to repair the products at no extra charge, or replace them with a free product if they malfunction during the warranty period.
On top of that, buying from Apple also doesn't feel like a risky experience to people simply because of the huge network of retail stores Apple operates. If there are any issues with their product, people know they can easily make a reservation at their local Genius Bar, and take the product in for support.
Besides that, Apple customers also know they can rely on Apple-authorized service providers and Apple Repair Centers if the Genius Bar just isn't an option.
Apple's Support Page helps with this too. It contains tons of straightforward self-help content. For some people, reading an article is a much easier task than connecting with customer service reps.
The company also introduced the Apple Support App offering customers personalized access to solutions for all their Apple products and services – the "all for one" app as some of the users define it. Customers can easily manage their subscriptions, reset the Apple ID password or troubleshoot an issue with a real person if they can't find a description that explains their pain point. 
All of that has a huge positive impact on relieving purchasing anxiety, which eventually ends up contributing to Apple's NPS.
2. An Obsessively High Attention to Details
Apple doesn't just stick to offering quality and reliable products. The company goes the extra mile and pays a ton of attention to the smallest details.
And consumers notice that. In fact, if you google "Apple attention to details," you'll come across tons of articles talking about the brand's "fanatical" and "insane" obsession with details.
Here are just some examples to show you what we mean:
The Apple Pencil's weight is distributed in such a way as to ensure that no matter which way it's placed, it always rolls over to display the word "pencil." Its weight distribution also reduces its momentum when rolling, thus reducing the risk of it rolling off the table.
Pretty much all Apple notebooks have a slight indentation in the area right below the trackpad to make it easier for Apple users to open the laptop with just one hand.
Newer Mac laptops feature a "smart" fan. Basically, when a user engages the voice dictation feature, the internal fan's speed is automatically slowed down a bit so that the laptop can better hear the user speaking.
MacBook Air and newer MacBook Pro devices have a "smart Caps Lock" feature. Apple essentially prevents accidental Caps Lock keystrokes by requiring users to hold the Caps Lock key a bit longer for it to turn on.
Apple's attention to detail goes beyond the products, into the packaging and the experience that's attached to it. The company doesn't just deliver the purchased items in standard cardboard packaging – it goes above and beyond and puts just as much attention to detail into its packaging as it does into every product.
How much attention, you ask? Consider this – the company has a dedicated packaging designer who spends months opening prototype boxes made by Apple's designers. A lot of testing goes into making the packaging a joyful experience for the customer.
The result of this is that buying and opening an Apple product is a sensory experience. From the first interaction with an Apple product – in this case, opening the box – customers have a sense of Apple's attention to detail and design philosophy.
This relatively small factor can have a big effect on purchases, as it might help the company stand out from its competitors by delivering a unique experience to its customers.
This experience is closely linked to the product itself. The sensory response of opening up the box and first using the product is an event that customers subconsciously remember each time they use an Apple product.
Going forward, no compromises are ever made when it comes to Apple Stores as well. Steve Jobs' belief was that "details matter, and it's worth waiting to get it right". For example, the team spent 3 months developing the stainless steel wall panels that first appeared in Stanford stores, managing to get what seemed impossible – a matte surface reflective. 
One of the Apple's strengths is best expressed through a simple rule: "Sell an experience, not a product."
Buying, opening, and using an Apple product is a memorable experience for people, not just a consumerist tendency – which is a major factor that influences Apple's NPS.
Yet, what one must not forget is that a unique customer experience relies on the people that are behind Apple's products and services. Hence, the company makes sure to instill this approach to excellence to its staff through every decision.
Apple's new campus is a unique example in this respect – a technical marvel that embodies the company's values. The project received much criticism due to its grandiosity, but as Tim Cook explained: "Could we have cut a corner here or there? It wouldn't have been Apple. And it wouldn't have sent the message to everybody working here every day that detail matters, that care matters." 
3. A focus on employee satisfaction
If you're not familiar with eNPS, it stands for Employee Net Promoter Score, and it's a derivative of the NPS methodology. The surveys work pretty much the same way, but instead of focusing on customer satisfaction, they focus on employee satisfaction.
Basically, eNPS helps you find out how happy your employees are working at your company, and how likely they are to recommend your business as a working place to others.
Why is that relevant? Because happy, satisfied employees are productive employees! According to research, happy employees are 20% more productive than their unhappy counterparts. And that boost was achieved by just spending $2/person on snacks and drinks!
Plus, companies with engaged employees outperform businesses without engaged employees by a whopping 202%. What's more, companies with highly engaged employees can see a revenue growth of around 2.5 times that of their competitors – not to mention high employee engagement can also reduce expensive staff turnover by approximately 40%.
And if your employees are happy and productive, your customers will be satisfied too. If employees are unhappy, eNPS lets you know about that so you can take action.
Now, Apple was actually one of the first companies to adopt eNPS. Apple began surveying their own employees every four months to find out how likely they would be to recommend the store as a place to work.
The company recognized the importance of employees being Promoters themselves. After all, only an employee who truly believes the service they are selling is the best in the market can turn a customer into a Promoter.
The eNPS score is calculated the same way as the NPS score, with the total ranging between -100 and 100. Apple's eNPS score in 2022 seems to be 19, taking a step back from an eNPS score of 25, registered in 2018. That might not seem impressive, but it's actually a pretty good score, given that eNPS is usually lower than NPS since employees are stricter critics than customers.
But how does Apple achieve high employee engagement?
Here are a few things the company does to keep employees happy and motivated:
When employees work in teams, rewards are applied to team performance.
Apple created a culture of fandom at work by letting employees use company products regularly, giving them discounts, and even some products as free gifts to them.
Apple offers employees regular training sessions to improve their skills and help them develop better ideas.

What's more,

the company created a corporate university

designed to instruct its employees in the various aspects of the company's technology and culture,

preparing the next generation of Apple leaders. Although there is little information on the available courses, some of them would focus on:

Communicating at Apple, Project Management, Vendor Management, What Makes Apple, Apple. Employees can sign up for courses relevant for their positions on a voluntary basis.

At Apple, employee contributions are not measured by how long they worked at the company, but by how many projects an employee has worked on. Also, the best ones are always rotated between current projects.
Apple employees can get a raise without a promotion. For example, a designer could get a raise without being promoted to a team manager if it's not the kind of job they'd be good at or happy doing. Apple focuses on having people do the jobs they are best suited for.
Apple introduced new channels of communication, like the "Hello" app delivering daily a summary of the need-to-know information for retail employees. Another example is the "Loop" app which enables peer-to-peer communication and learning by exchange of best practices.
The brand invests in building an environment for their employees that reflects Apple values and that would inspire them to match the effort in the products they create and the customer service they provide. 
With over 500 retail stores worldwide and 154,000 employees as of 2021, keeping such a big team constantly engaged and loyal to the company's values might seem an impossible task to accomplish. However, Apple has consistently proven the opposite, the company always being recurrent on the Top companies to work for charts.
4. Unique Customer Experiences
It was predicted that by 2020, customer experience would overtake price and product when it comes to brand differentiation on the market – which actually turned true years past.
Yet, Apple was more than prepared for this shift. A simple Google search is enough to reveal how many Apple customers are pleased with the unique experiences the brand offered them – like replacing a phone for free because a customer waited too long for the problem to be diagnosed, or replacing a month-old computer with a brand new one because a key was depressed for someone who was going to college.
This kinds of experiences are usually a result of Apple's 5 steps of service (the acronym for those steps is actually APPLE). The 4th step ("Listen for and resolve issues or concerns") encourages employees to get to know their customers better so that they can offer them a higher degree of convenience and personalization.
The fact that convenience is important is a no-brainer, but what about personalization? Well, according to research, 51% of consumers expected that – by 2020 – companies would manage to anticipate their needs, and make relevant suggestions based on that. Four years past, the research accounted for 66% of customers expecting companies to understand their unique needs and expectations. Also, increasing personalization on more channels can increase consumer spending by around 500%.
Apple doesn't just deliver personalization in the form of unique customer service. The brand's services are usually highly oriented towards offering users a personalized experience.
For instance, Apple Music uses personalization to pick the best soundtracks for every user. Apple also utilizes user info like purchase and download history to make what they call "Personalized Recommendations" on the App Store and iBooks Store.
Customer feedback plays an important role in user-oriented personalization too. For Apple, feedback is clearly important, given they make it very easy (and also encouraging) for customers to leave feedback for most of their products and services.
5. A Clear Understanding of the Power of Simplicity
"That's been one of my mantras – focus and simplicity. Simple can be harder than complex: You have to work hard to get your thinking clean to make it simple." – Steve Jobs
One of the best ways to provide consumers with a positive experience with your brand is to offer simplicity. Research backs that up too – consumers desire simpler, faster, and more seamless brand engagement.
Apple's emphasis on simplicity is immediately noticeable when you consider that most Apple services support single sign-on features. For instance, you can use your Apple ID to access all services hosted by Apple, which is much more straightforward than having users keep track of multiple IDs to use different services.
Or you can start to work on a task on your MacBook, to then finish it on your iPad. The brand understands that it's important to ensure continuity via a seamless experience across devices, and they are managing it pretty well given the complexity of the task.
Apple's focus on simplicity is also noticeable when you take their omnichannel support into account. Customers can get in touch with Apple's support team through live chat, email, or by phone. But that's not all – the company also offers support on Twitter, and has a dedicated YouTube support channel too.
Apple also launched the Tips app – as the title implies – offering great tips and tutorials about different features, hence educating their users so they can make the most of the purchased product.
How does omnichannel support contribute to high customer satisfaction, you ask?
Well, it seems that companies with omnichannel engagement strategies manage to retain around 89% of their customers, and 64% of consumers expect to receive real-time assistance regardless of the channel they use. Offering this type of support is more likely to get your customers to promote your brand to others.
6. A Brand Built on Innovation
One of Apple's biggest selling points is its unique hardware and software. The main reason they manage to offer products like that is because they focus on innovation. By that, we don't mean they just create products that are new. They also make sure they are useful, they are likely to be adopted, and that they will lead to change.
The AirPods and Apple Watch are great recent examples of the company's ability to innovate on the market. What's more, even though the AirPods were met with skepticism, Apple powered through it and delivered on their promises. And when users noticed problems with the product, they were quick to act on that feedback.
On their path to innovation, Apple did encounter many difficulties and there were for sure faulty decisions that harmed their image. Among them were the cancellation of the AirPower Charger because it could not leave-up to their standards or the butterfly MacBook keyboards that have caused a lot of buzz. However, after trying to deliver on their promises but failing to, they could honestly admit they were wrong and focus their efforts on a new idea. They were aware that "sometimes when you innovate, you make mistakes. It is best to admit them quickly, and get on with improving your other innovations." – Steve Jobs
The brand never ceased to progress. Apple was always looking for new opportunities, new ideas, aiming to give customers not only what they want, but anticipating their needs. Hence, they were ready to lose sight of the shore – of what was popular with many users, in order to be able to come up with better and bolder solutions. Today, 89% of successful businesses agree that predicting customer needs is critical to growth. 
Apple is one of the most innovative companies in the world claiming 2,490 patent grants in the US in 2019. They are spending their biggest part of their revenue on research and development. Their expenses on research for 2021 were $21.914 billion, a 16.86% increase from 2020 – an up-ward trend which started in 2003.
Is innovation tied to Apple's NPS, though?
Yes, it seems it is. According to research, 84% of consumers say it is somewhat important that the company they buy from is innovative. 75% of them would also be likely to pay a premium price for innovation.
And if consumers are happy with the products they buy, they will probably recommend them to others, or just talk about them online. As a result, those customers will most likely become Promoters for the brand they like, raising its NPS score.
Considering all of that, it's not hard to see how Apple's NPS score can get a boost from its innovative products.
7. Continued improvement of customer satisfaction
Contrary to the common belief that Apple doesn't like to listen to its customers, Apple was one of the first big proponents of Net Promoter Score. Fred Reichheld's popular book, The Ultimate Question, explains how Apple used Net Promoter Score prior to 2006 to influence its practices.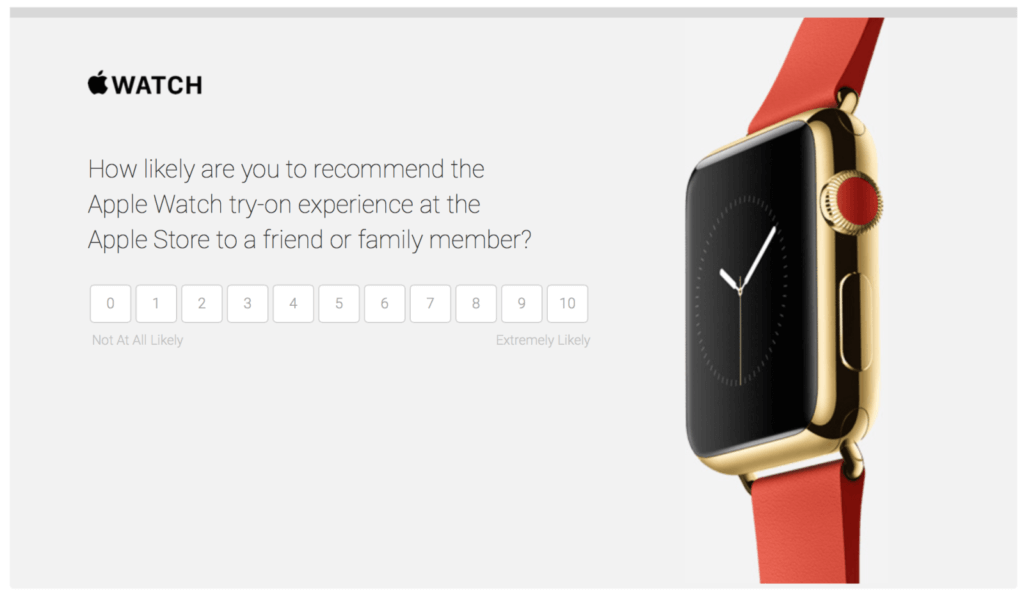 A focus on continually improving and increasing Net Promoter Score affects every level of work at Apple, from the big picture to day-to-day store operations. Reichheld explains how Apple puts NPS to work in the management of its retail stores:
"Comments from customers help store managers prepare for service recovery calls with Detractors to close the feedback loop. The outcomes of these calls, together with the customer comments, provide important coaching and feedback messages that are passed along to employees."
NPS feedback is analyzed and provided to stores on a daily basis. Whenever Apple receives a poor score from a Detractor, the store manager follows up over the phone to clear up the issue within 24 hours. The response is rapid, and it has serious positive results for Apple's ratings.
According to Reichheld's book, internal studies showed that Detractors whom Apple contacted within 24 hours were significantly more likely to buy Apple products in the future than Detractors that couldn't be reached. Apple worked out that each hour on the phone with a Detractor had a value of $1,000 in additional revenue for the company.
8. Focus on customer value, not money
"There's this thing in technology, almost a disease, where the definition of success is making the most. How many clicks did you get, how many active users do you have, how many units did you sell? Everybody in technology seems to want big numbers. Steve never got carried away with that. He focused on making the best." – Tim Cook
Research by Deloitte and Touche found that customer-centric companies were 60% more profitable compared to companies that were not focused on the customer.
If Apple's main focus was on making more money, they probably wouldn't have been so successful now. Instead, they focused on their customers and it has paid off.
Today, Apple is one of the world's most successful and profitable technology companies. It holds over 40% of the US smartphone market (46,9% in 2021 to be precise) and has a fantastical 87% brand loyalty across the US and Europe.
So think less about profit and more about customer value. How your company and your product or service can create more value for your customers.
Find Out Your Company NPS
Apple is one of the world's biggest companies, and the tactics that it uses to measure its NPS might not be completely relevant for your business; however, the general strategy – a unique product backed up by great customer service – is something that any brand can implement.
From Apple to other industry-leading companies, the best way to learn retention from big companies is to survey your customers, read their feedback and use it to improve your product, service, and experience.
Having access to such data can help you make better decisions regarding how to approach customers, and which segments (Promoters, Passives, Detractors) you need to focus on more at the moment.
While running NPS surveys can seem difficult if you don't have any experience with them, the reality is that they're quite easy to manage – if you use the right NPS software, that is.
Well, Retently has got you covered – it lets you run automated NPS surveys, segment your customers to send targeted surveys, and use multiple survey channels (like email and in-app surveys). Best of all – you can easily set up automation scenarios, run transactional NPS campaigns, and integrate our service with tons of useful platforms and tools.
Get notified of new articles
Leave your email to get our monthly newsletter.